The club is moving the online events to Universal Tennis. For the time being, the ladder-like event is Click and Play. Check out the club newsletter for details and instructions to join: https://mailchi.mp/craighenrytennis.com/universal-tennis-click-and-play-other-club-news. Come back later for updates.
The Click and Play ranking will be posted every week so that you can see your full rating to the last digit. This is the ranking for June 20, 2021.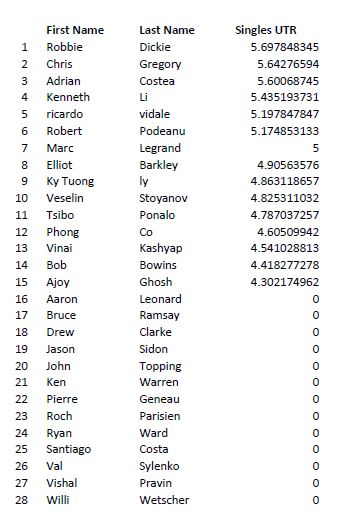 Why we left the Global Tennis Network ladder - the full story
We used to run the club ladder on the Global Tennis Network platform and everyone was happy. We liked the GTN ladder a lot. The club was paying around US $150 per season for a club membership, and members didn't need to pay anything.
Early this year, the GTN owner changed the payment structure: the club membership option is no longer available, and members would have to pay individually for a "Premium subscription". Without a premium subscription, members are not able to message each other from within the ladder and to view match histories. We didn't like this. Also, we weren't impressed by the way the GTN owner managed this change. We messaged him to get more details, and he didn't get back to us. After a month or so, a board member bought a premium membership and messaged the GTN owner again thinking that there would be a quick reply to a premium subscriber in good standings.
The GTN owner replied after roughly another month, saying that he gave our current members power subscriptions for this season so that we could make the transition to another system. By that time, we had decided to try Universal Tennis, which came highly recommended by the Ontario Tennis Association. We can also organize tournaments and other events on the Universal Tennis platform. It's a very powerful system, and the future of tennis.
Universal Tennis also promised to look into creating an event template that is closer to the ladder structure. They are constantly improving the platform. There is a learning curve for all of us, including the organizers, but Universal Tennis has a lot of potential. The transition to a new system is always difficult, but the new system is better and more predictable than the old one. Please try to spend a bit more time on UT, look around, see what other clubs are doing, and you'll see that UT has a lot of traction at all tennis levels. Let's try to make it work at the Craig Henry Tennis Club. Join the Click and Play event, and start playing on Universal Tennis!